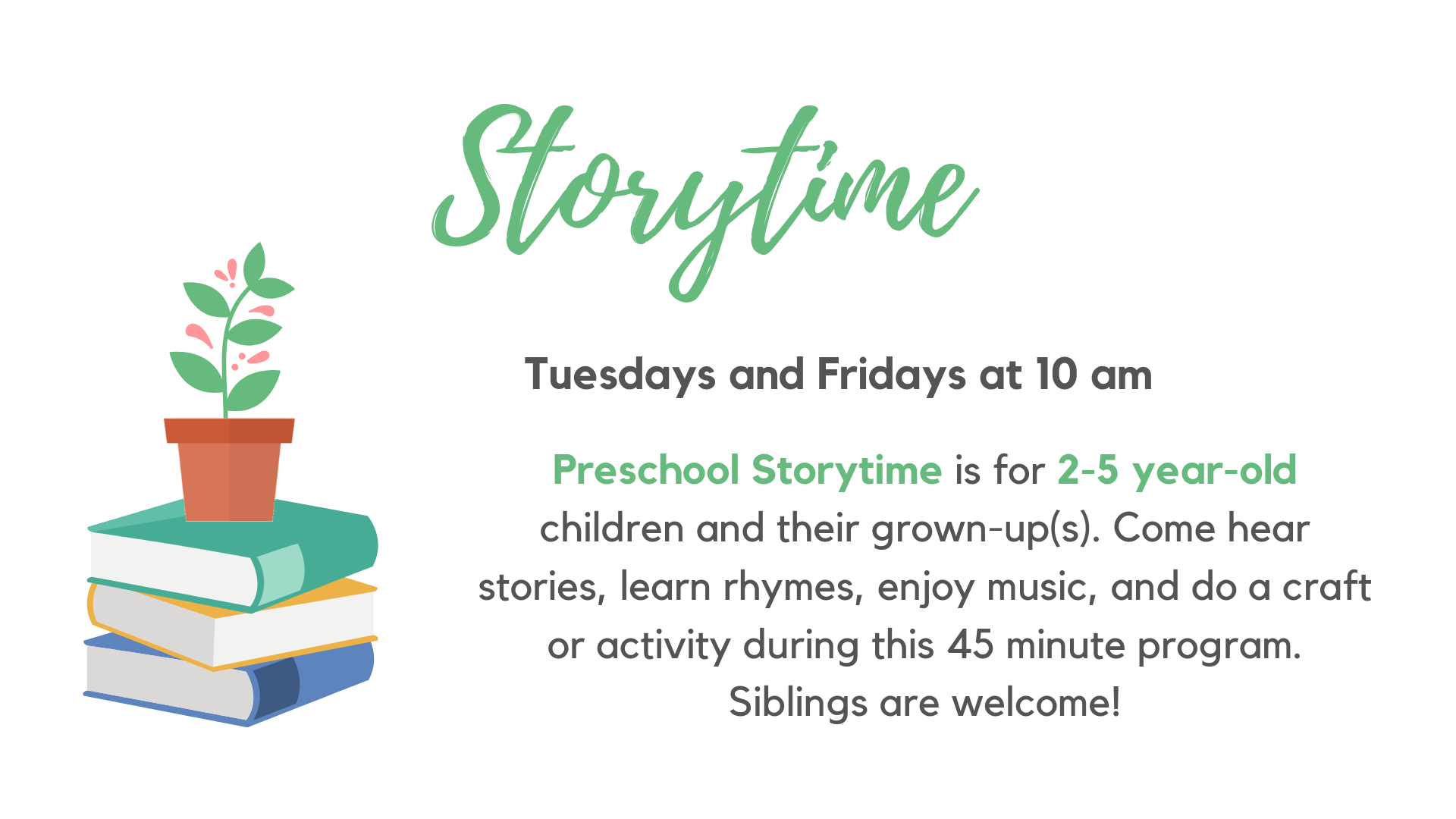 At the Reedsburg Public Library we offer three main types of Storytimes:
Babygarten (Baby Storytime) brings caregivers and babies together for rhymes, songs, books, and free-play. The primary focus is the healthy development of infants aged 0-24 months, emphasizing language enrichment and pre-literacy skills.
Storytime (Preschool Storytime) is for children (2-5 years) just as much as their parents/caregiver, it usually includes stories, rhymes, music, and a craft/activity, all geared towards creating a positive attitude around literacy and learning.
Family Storytime is a special evening storytime that welcomes all ages to the library to celebrate the fun of reading. Some examples of Family Storytimes (a part of our Family Fun Night programs) are:

PJ Storytime, a fun night to come to the library in your pajamas to read stories, sing songs, and do a craft or activity
Bilingual Family Storytime, Cuando Cuentas Cuentos, where everyone is welcome to join in the stories, rhymes, music, crafts, and activities during this Spanish-English bilingual program (Todos son bienvenidos a este programa bilingüe que contiene cuentos, rimas, música, manualidades, juegos y mucha diversión.)
Family Read Night, a time for families to read to one-another, but also a time highlighting new books in the collection that can be checked out at the end of the night.

New as of Spring 2020, is an additional Bilingual Storytime/play group, Colorín colorado, for families with kids from 0-5. 
Expectations for Storytime:
Our storytime, aimed at preschool-aged children, is a time for kids and their grown-ups to engage with books, rhymes, music, and more. For this reason, grown-ups are asked to limit conversation and phone use until after the storytime is over.
Also, parents are encouraged to participate in the songs and rhymes; words are typically projected onto the screen.
Preschool kids are still learning, so while sitting still and listening aren't always mastered at this stage, it is something we practice at this storytime to help prepare kids for these expectations come school time.
After the main storytime we participate in a craft or activity. This is a great time for parents to converse and for kids to interact with one another.
And as always, after storytime families are encouraged to stay and keep up the learning and conversations in the children's area of the library where toys and books are available.
Hope to see you soon!
Click the image above to visit our Storytime Blog!