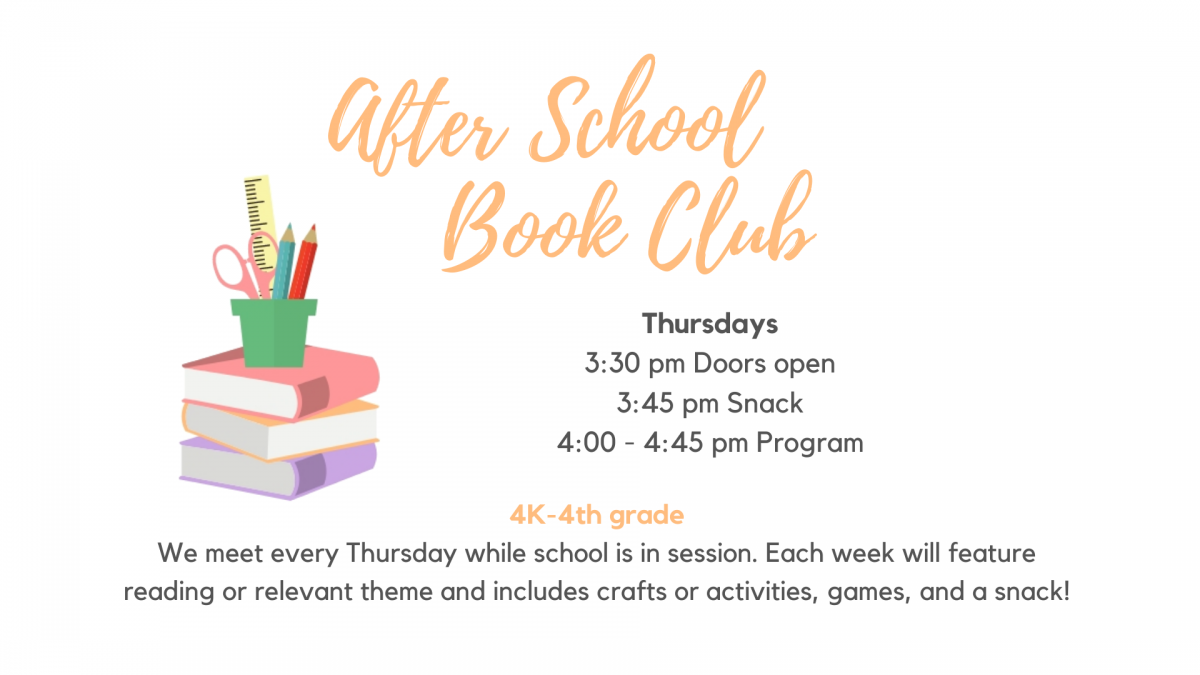 During the school year, at the Reedsburg Public Library, we offer a fun weekly book club:
It is intended for school-aged children in 4K through 4th grade (after 5th grade, pre-teens/teens are welcome to come to Teen Time)
This program requires no advanced registration.
Typically, we read a chapter or two of an age-appropriate chapter book, meaning consistent attendance from week to week is encouraged, although not necessary.
Goals of this program:

showing young readers that books and learning can be a fun, social past-time
creating a safe space for kids to unwind after the school day
providing structured, but fun time for interaction with friends and fellow book club members

After School Book Club seeks to provide an additional avenue for learning. If you're curious about some of the learning techniques we aim to fulfill with this program or looking for techniques you can use in your home to promote literacy, check out this list of "10 Ways to Help Your Child Become a Better Reader."
Expectations for After School Book Club:
This program is intended for kids to interact with other kids. Parents are not expected to attend and, if they wish to remain nearby, are encouraged to wait in the main library area until pick-up time at 4:45 pm. Should special circumstances require a guardian or caregiver to be in closer proximity, please notify a youth services staff person to discuss.
Due to varying transportation needs, the doors open at 3:30 pm but the program does not begin until 4 pm. While we wait for all the buses and drop-offs, we offer an optional, casual activity and have a snack from 3:45-4 pm.
In accordance with the library's Unattended Children Policy, parents or guardians are expected at the 4:45 pm pick up time, unless previous arrangements have been made with a youth services staff person. In the case of an unexpected circumstance, please call the main library number. If a parent does not show up within a reasonable amount of time, library staff will attempt to contact the parent or guardian. For this reason, we encourage parents to keep the contact info associated with their/their child's card up to date
Hope to see you soon!